I love love love rapini! The truth is that during winter months, when rapini are fresh and plentiful, I usually have a large bowl of cooked and sauteed rapini in the fridge, ready to eat with a toasted piece of Calabrese bread and a drizzle of extra virgin olive oil. I also love adding the cooked rapini to soup or I use them as a pizza topping. If I have enough in the fridge, that's when I whip up this recipe that brings together spicy pork sausage and pasta. So here's my suggestion! Make a lot of rapini and keep them in the fridge. On a day that you need to have dinner ready in minutes, brown the sausage, boil the pasta, and toss with the rapini. Just be sure to save some rapini so you can find other creative ways of adding these luscious greens!
Depending on your preferences, this recipe translates deliciously into a vegetarian or vegan meal. The other benefit to this recipe is that you control what ratio of pasta, rapini, and meat.  Be creative and use your favourite pasta. I love it with orecchiette, strozzapreti, and cavatelli. And.... don't be stingy with the olive oil!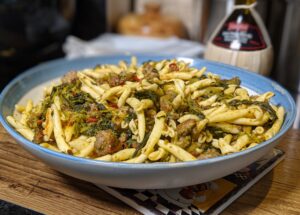 If you are looking for a mouthwatering antipasto or an afternoon snack, toast slices of good quality Italian bread and add the rapini, and drizzle with extra virgin olive oil. Looking for something a little more impressive? Cook up a batch of polenta and serve with rapini on top! Oh... so good!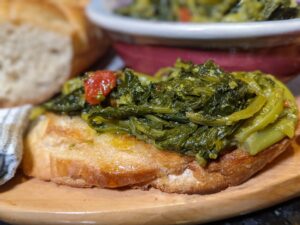 If you prefer rapini that have a little bite, then consider cooking them with the pasta. Instead of boiling and sauteing them, simply add the raw rapini and pasta together to the pot of boiling salted water. A few minutes before they are cooked, sauté the garlic in olive oil and add the hot pepper, if using. Lift both the pasta and rapini from the pot and add to the skilled. Toss with the browned meat, adding some pasta water to keep the mixture moist.  Drizzle with olive oil and serve. This method means that there is one less pot to clean!