Whether you need to get dinner on the table in 15 minutes or you are just looking for a quick dinner, this recipe will certainly satisfy all your senses. Colourful, light, and fresh-tasting, you will need to have all your ingredients ready because it comes together in no time. Don't let its reference to springtime (primavera) throw you off! Use any combination of vegetables at their peak and you can make this pasta during any season. Start boiling the water! Dinner is almost ready.
Consider varying the amounts of vegetables to reflect availability and preference.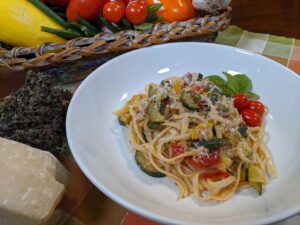 Try different combinations of vegetables.
This recipe works well with penne, linguini, rotini, and even ravioli.
Consider adding grilled chicken breasts or seared shrimp.