The other day, I found myself standing in front of the fish counter. I asked the fishmonger for the freshest fish and that's how I landed on vongole for a weeknight dinner. I tend to be generous so I use about 1kg of vongole for every 2 or 3 people. To reduce the cost, you could cut down a little but the more clams, the tastier the sauce.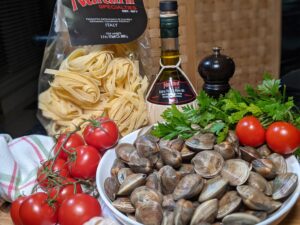 In keeping with Italian cuisine, this recipe uses only a few ingredients but it is essential that the clams are fresh. The only tricky part is to rid them of sand and grit. There is nothing like the texture of grit in your mouth to spoil an elegant meal. And if you think that canned clams and bottled juice are ways of avoiding this step, then this recipe is not for you. Here's how to ensure a clean juice:
As soon as you know that you are serving vongole, place them in a large bowl with a tablespoon of rock salt and let them sit in cold water for as long as you can, preferably several hours. Rinse occasionally and replace the water. You'll be surprised as to how much sand settles at the bottom of the bowl. Rinse well and continue with the recipe.
Then after the clams have steamed open, use a slotted spoon to lift them from the juice. Line a sieve with a coffee filter and place over a bowl. Pour the juice, allowing it to filter, gently swirling the sieve. Otherwise, pour the juice into a glass measuring cup and allow it to sit undisturbed for several minutes. Then, without shaking the measuring cup, gently pour the liquid, leaving the settled sand to the bottom along with a little liquid. Continue with the recipe.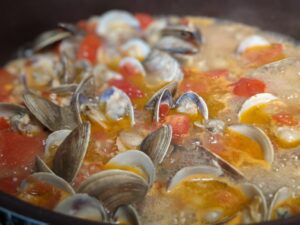 Did you know that authentic pasta alle vongole is dairy-free? That means no cream, no butter, and no cheese… not even if it's Parmigiano Reggiano. The only true variation includes trying different cuts of pasta. You could also substitute white wine with Prosecco or if you need to keep it totally alcohol-free, then just leave it out. As far as the tomatoes go, the original dish does include them but I love their sweetness and their red flesh against the green parsley and white pasta reminds me of the Italian colours.