At the end of the week, the fridge is sometimes a little bare. Luckily, I try to keep some fish fillets in the freezer for nights like this! Bursting with flavour, these fish tacos turn any kind of fish into a delicious family-friendly easy meal! Mixing these Mexican tacos with the robust Cuban Mojo Sauce just makes so much sense!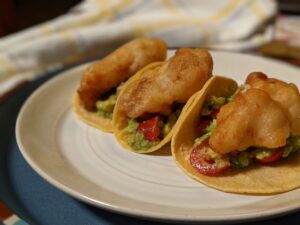 Do not overload the pan when frying the pieces of fish. Make sure that they are golden on all sides.
If using frozen fillets, defrost and dry the fish very well.
Consider using cod or other meaty fish fillets or shrimp (deshelled and deveined).