Making cullurielli brings me back to simpler days when my mom and dad spent the day preparing all sorts of traditional sweet Christmas delicacies, just in time to celebrate the feast of the Immaculate Conception on December 8. Served with homemade soppressata, salty anchovy fillets, and chunks of Friulano cheese, these potato-based fried dough are popular street food in Calabria. Golden, airy, and slightly chewy, we dip them in chunky tomato sauce for an added savoury taste. Add them to your next charcuterie board and watch them disappear.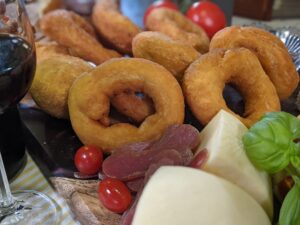 For a sweet traditional version, leftovers are sliced into chunks and heated with vincotto, a sweet syrup made from the reduction of unfermented wine must.  Slice the cullurielli and add just enough vincotto to barely coat the pieces. Place on medium heat and stir until just heated through. Serve immediately. 
Leftovers can be reheated in the oven to restore their slightly crispy exterior.
For an article: https://www.thespec.com/local-stoney-creek/opinion/2021/12/18/marisa-s-easy-kitchen-make-cullurielli-the-star-of-your-next-charcuterie-board.html