Three of my children love Birria Tacos but with their hearty appetite, it becomes a little expensive to go out for these tasty little tacos! On the other hand, I usually don't have 4 hours to prepare this traditional Mexican stew. So, I've come up with my version. While definitely not authentic, the flavour comes very very close! In fact, my kids said that they are just as good as any Mexican Restaurant! A comment like that ensures that this recipe becomes a family favourite.
I had enough broth to freeze to use for the next time I'm making chili, fajitas, or regular tacos.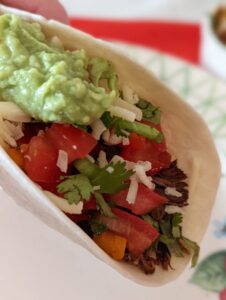 You can use the mixture to make regular tacos on warm flour tortillas.