Bursting with flavour from the blueberries and jam, this loaf is incredibly moist and fragrant. Served with a cup of hot coffee or freshly steeped tea, it makes for a delightful afternoon treat. Serve it on a pretty platter and this dessert will stand out after an elegant meal, too!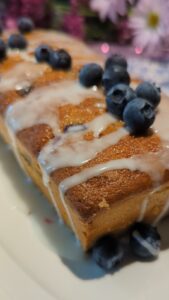 This loaf is best served the day that it is made.
You can wrap it in an air-tight container if you have leftovers. 
The loaf freezes well unglazed.  Defrost completely then glaze and serve with ricotta cream.
Experiment with different berries, jams, and nuts.